Adobe InDesign CS4 Styles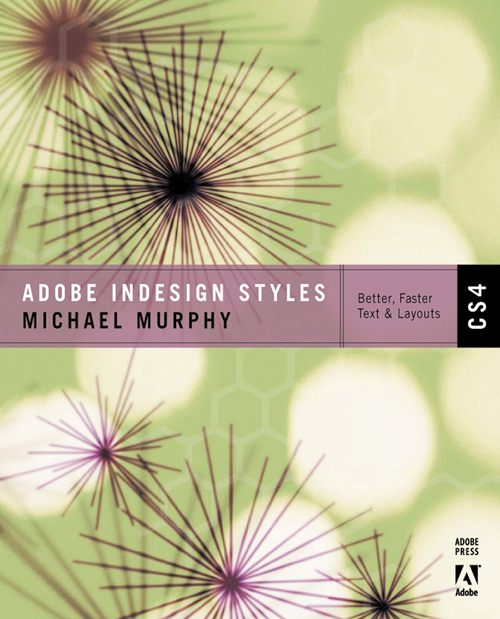 Tap into the far-reaching potential of InDesign styles—from simple drop cap formatting to cross-media export to XHTML. Styles have the power to transform how design and production professionals approach and accomplish any project. Adopting a style-centric workflow can reduce tasks that would normally take days to mere hours, and tasks that would take hours to minutes or even seconds. Less time spent on repetitive tasks means more time for creating your best work.
This book explores every InDesign style to reveal its full potential. Throughout each chapter, you'll pick up many tips and best practices gleaned from real-world experience. Two bonus chapters, "Stroke Styles" and "Project Planning with Styles in Mind" are available for download.
You can view the following  sample content on the Peachpit web site:
You can order Adobe InDesign CS4 Styles from Peachpit.com and from Amazon.com. Regardless of where you buy it, you can register your copy of the book on the Peachpit web site and download two bonus chapters. I wrote way too much to fit in its 256 pages, but the material that got pulled from print will still see the light of day as downloadable content.
You can read the glowing reviews on Amazon.com or read a comprehensive review at Applelinks.
InDesign CS4 Styles was also issued as a French language edition (Les Styles Sous Adobe InDesign CS4) and won an Award of Excellence (Trade Professional) at the 39th annual Booksbuilders West Book Show in 2010.
Below is the table of contents for the print version. Adobe InDesign CS4 Styles is also available as an ePub.
PART 1: TEXT STYLES
Chapter 1 The Fundamentals: Paragraph and Character Styles
Character Style Attributes
Paragraph Style Attributes
Working with Paragraph and Character Styles
Chapter 2 Nesting and Sequencing Styles
Nested Styles
Advanced Nesting Techniques
Nested Line Styles
Paragraph Styles in Sequence: The Next Style Option
Establishing Relationships: Based-on Styles
Chapter 3 Automatic Styling with GREP
GREP Styles vs. Nested Styles
Metacharacters
Creating a GREP Style
Defining Expressions for GREP Styles
Chapter 4 Auto-styling Imported Word and Excel Files
Working with Word Files
Working with Excel Files
PART 2: STYLES BEYOND TEXT
Chapter 5 Object Styles
One-stop Shopping for Attributes
Default Object Styles
Similarities Between Object Styles and Text Styles
Differences Between Object Styles and Text Styles
Combining Paragraph Styles and Object Styles
Flexible Object Styles Every InDesign User Should Have
Chapter 6 Table and Cell Styles
Table Styling
Table Styles vs. Cell Styles
Working with Table Style Limitations
Maintaining Links and Updating Tables
PART 3: COMBINING STYLES WITH OTHER FEATURES
Chapter 7 Drop Caps, Bullets, and Numbering
Drop Caps
Bullets and Numbering
Chapter 8 Advanced Find/Change with Styles
Finding and Changing Text Styles
GREP Find/Change vs. GREP Styles
Saving Queries
Advanced Style-based Search Techniques
Find/Change for Objects
Chapter 9 Generating Dynamic Content with Styles
Tables of Contents
Running Header Text Variables
Cross-references
Chapter 10 Styles, CSS, and XML
Export for Dreamweaver
Styles and XML
Importing XML
XSLT: Styles on Steroids
Chapter 11 Style Management
Style Organization Basics
Style Groups
Quick Apply
Managing Styles Across Documents
BONUS ONLINE CHAPTERS
Stroke Styles
Creating New Stroke Styles
Saving Stroke Styles
Modifying and Deleting Stroke Styles
Sharing Stroke Styles
Stroke Style Easter Eggs
Planning Projects with Styles in Mind
Style Triage
Creating "Undefined" Styles
Power-apply Your Styles
Redefine, Redefine, Redefine